Imperial CMS
Fast, intuitive, immediate content management
Imperial CMS is a modern tool offering complete control over service contents, serving as an indispensable basis for company development and providing the possibility to implement various marketing strategies.
Our content management system (CMS) is the foundation of a number of well-functioning internet portals bringing traffic and benefits to the businesses. The system is modern and adapted to current technologies, and the services and websites emerging from it are fully mobile and adapt to all internet ready devices.
You don't have to pay us in any way for utilizing our software – no licensing, maintenance or monthly fees. Together with your CMS come reliability and control! If, however, our clients need support, we're here for them.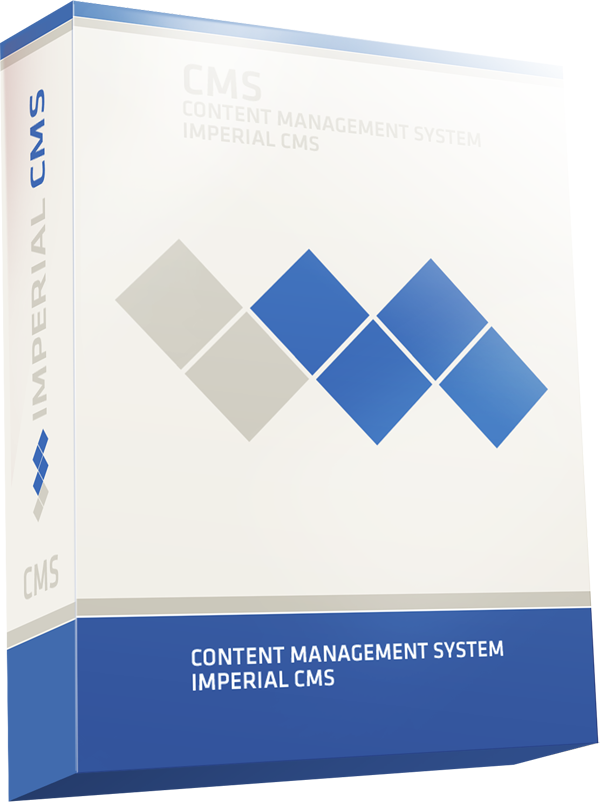 Why is it worth choosing Imperial CMS?
Ease of use and intuitive functioning
Easy to use, intuitive functioning, created with its future users in mind and meeting their business needs – the main foundation of the system. It doesn't require special training or any familiarity with HTML – if you have even a little experience on a web browser, then you'll be able to manage the content of your service.


Limitless
Imperial CMS allows you to create an unlimited number of sites (on various domains), having one engine and enabling extensive mangement platforms from one panel.
Lower costs relating to the service
Having a CMS-based internet service lessens the interference of internet agencies or IT divisions in making changes to the page, which also minimizes the financial costs of and time spent on making those changes.
Security
The system was prepared in such a way as to maximize the level of safety of stored data, and, thanks to the ability to divide rights between choosen groups of administrators and editors, you have the certainty of only allowing access to the right people. In choosing a dedicated system, the security of your service is at a much higher level than in similar systems generally made available which are at risk of mass attacks from websites. Imperial CMS is conformed to GIODO requirements.
Technical support / warranty
Since we want CMS buyers to feel secure at every moment, we ensure a warranty on our systems as well as tech support.
Optimized in search engines such as Google, SEO
We know how important on-line marketing is, which is why our system automatically adapts URL addresses to the contents entered, enabling easier configuration of key words, titles, descriptions (meta tags) necessary to optimize the search results for the service.


Manage immediately from any place and device
You can manage the system from any place or internet read device. Changes are visible immediately after their approval for publication. Management can occur from any stationary, travel or mobile device with internet access.


Esthetics, a pleasant view of presented contents
While entering information you don't need to worry about esthetics - Imperial CMS takes care of it for you, making sure the contents look the way you expect them to.
Flexibility and easy development
When your business needs change, we can install additional modules and integrations, thanks to which your tools can easily (and cheaply) develop alongside your business.


Speed and efficiency
Imperial CMS ensures the service loads fast, the automatic optimization of new graphics introduced to the system, and system caching (database queries and object code).
Consistent software development
Together with the growing needs of our customers, we create newer and newer modules.


System manuals
We add cost-free user manuals to every Imperial system service implemented.
Solutions that make our Imperial CMS stand out
For even the most demanding of customers...
Access rights
In the event where more than one person (e.g. employees, interns) needs to use the administration panel, the possibility exists to grant certain rights to different users - for instance, if we want a particular employee to have access only to certain functions (edition/deletion/viewing) for instance.


Changes register
The system contains a view of the changes history - viewable at any time. After logging in, you see a record of the last log ins and by who. It allows you to check if any employees have made recent changes to the system.


Fast access to management
In order to make editing easier, you can independently set short-cuts for the most important and most often configured catalogues (bookmarks), enablying you to quickly get there directly form the main panel.
Fulfillment of legal requirements
Besides the requirements around privacy rights, there are other legals aspects that the system completely fulfills, such as information regarding Cookie Policy, the contents of which and the preliminary statement can independently fill itself.
The system can serve any number of language versions
You can, at any moment, add another language to the pages - a very easy transition to any language for changes to the contents exists within the system.


Block visitors
In the event that we want to block particular visitors from accessing the site, we can do this by blocking there IP address. You can also block any entire country.