Imperial CRM
A CRM class system is a customer relationship management system, a management method with its main emphasis on building trust and long-term connections. Adding it to your company resources gives you a tool enabling conscientious management and service. The concept of the software enables the identification of the business' key clientèle and applying the right strategies for encouraging further, effective cooperation, as well as keeping them happy. Maintaining customer relations requires an individual approach – a very complicated and time-consuming process – but the right software can make this task significantly easier.
Our signature CRM software is a complete system helping management. During its use it creates a base, storing all information on clients, business partners, and others connected to the company.
CRM ensures the individualization of your service method, enabling access to information history, shortening service time, and helping in maintaining the right relationship with customers. The system helps to understand clients, normalize relations with them and gain their loyalty. This significantly influences the improvement of product and service offers.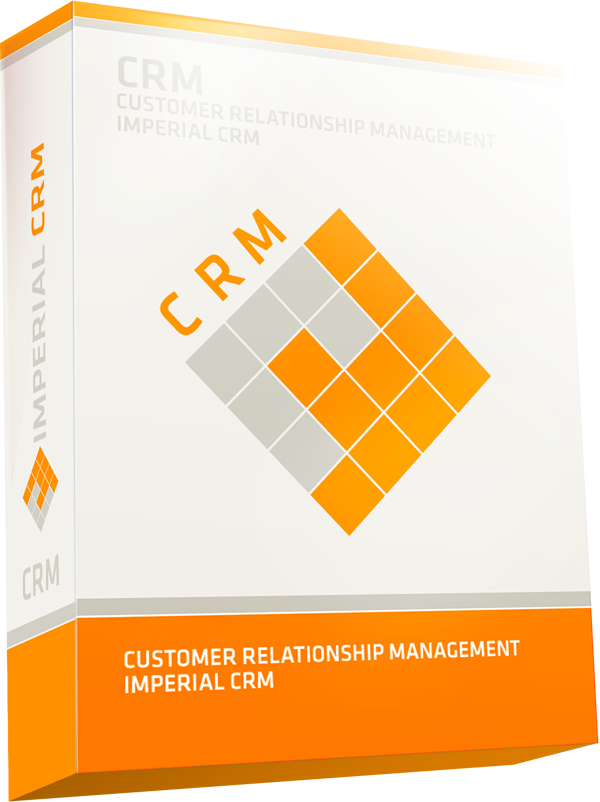 Why it's worth choosing Imperial CRM
Ease of use and intuitive functioning
Easy to use, intuitive functioning, created with its future users in mind and meeting their business needs – the main foundation of the system. It doesn't require special training or any familiarity with HTML – if you have even a little experience on a web browser, then you'll be able to manage the contents of your service.


No limits
Imperial CMS allows you to create an unlimited number of sites (on various domains), having one engine and enabling extensive mangement platforms from a single panel.


Lower costs relating to the service
Having a CMS-based internet service lessens the interference of internet agencies or IT divisions in making changes to the page, which also minimizes the finicial costs of and time spent on making those changes.


Security
The system was prepared in such a way as to maximize the level of security for data stored in it, and, thanks to the ability to divide rights between choosen groups of administrators and editors, we have the certainty of only allowing access to the right people. In choosing a dedicated system, the security of your servicre is at a much higher level than in similar systems made generally available, which are at risk of mass attacks from websites.


Technical support / warranty
Since we want CMS buyers to feel secure at every moment, we ensure a warranty on our systems as well as tech support.
Optimized in search engines such as Google (SEO)
We know how important on-line marketing is, which is why our system automatically adapts URL addresses to the entered contents, enabling the easy configuration of key words, titles, descriptions (meta tags) necessary to search engine friendly optimization of the service.


Manage immediately from any device and place
You can manage the system from any place and from any internet-capable device. The changes introduced are visible immediately after their confirmation for publication. Management can occur with the help of any stationary, portable or mobile device with internet access.


Esthetics and the friendly appearance of presented contents
While entering information you don't need to worry about esthetics – Imperial CMS takes care of the entered contents so that it looks like what you expect.


Flexibility, easy development
When your business needs changes, we can install additional modules or integrations, thanks to which your tools can easily (and cheaply) develop along side your business.


Speed and efficiency
Imperial CMS enables fast loading of the service, automatic optimization of graphics entered to the system, and system caching (queries to the base and object code).


Constant software development
Together with the growth of customer needs, we constantly prepare newer modules.


System instructions
We provide free Imperial system service instructions to each implemented system.
System operating areas, advantages
Imperial CRM software offers us:
A tool supporting those who work outside of the office - work hour reporting
A tool for electronic document circulation
A tool for offering products
A tool for project management
A system improving work and work hour planning
Complete budget control
Control over employee work with a work hour journal
Research on effectiveness of certain marketing operations
Remote work, system access from every internet-ready device
The most important benefits gained from implementing our CRM system:
Lower costs for your company
Introduction of the individualization of customer service methods
Improved flow of information, quicker reaction to emerging changes
Increased effectiveness of completed tasks
Compact customer service system for the entire company
Improved services, and consequently keeps regular customers
Improved company image in eyes of customers
Creation of a central base on customer information in the company
An intuitive and easy to use interface