Imperial eCommerce
Internet sales for even the most demanding.
We offer advanced, secure, and fully functional software. Our signature system contains everything you need for conducting your on-line store.
The main advantages of the system include its modern graphics, state-of-the-art product display, easy ordering and services, as well as the ability to expand and develop freely. The software has full management capabilities at its every level, with the ability to introduce any integration. The product is search engine friendly, adapted to various screen resolutions, and contains proven solutions.
The stage of functionality you choose to start your on-line store from is insignificant, because we can, at any moment, freely expand it, implement dedicated solultions or introduce changes proportional to its development and its actual wants and needs.
The resulting stores are powerful platforms, adapting to the way their administrators work, and enabling the best reception from its users.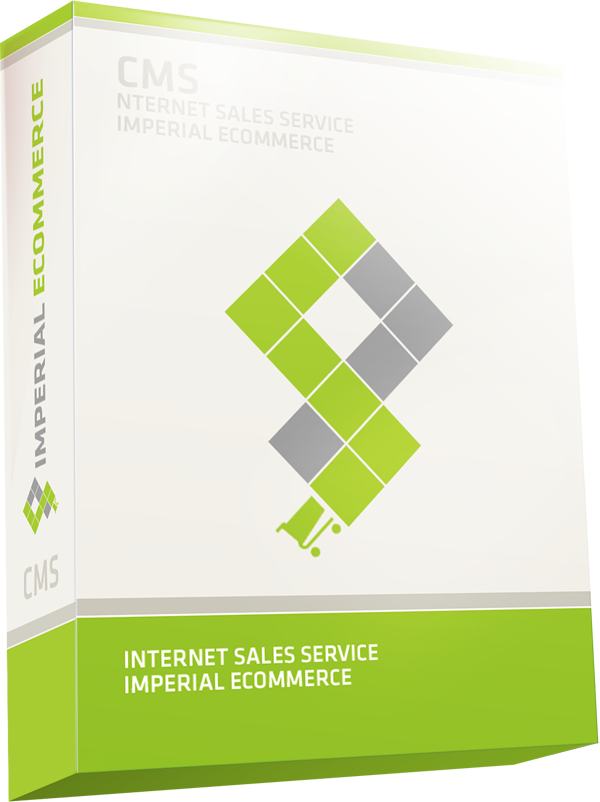 Why it's worth choosing Imperial eCommerce
The configuration of all modules
All the modules chosen by the customer are perfectly configured and ready to use. Our clients receive a ready, compact system – and we accept responsibility for its efficient operating.


High availability of store modules


We offer a wide range of modules. We implement the system right away, combining all necessary modules and enabling the customer to receive a fully working on-line store.



Expansion through dedicated functions


The system is flexible enough to allow for the introduction of any solutions adapted to the individual needs of the customer. As far as dedicated functions go, we'll create any solution proposed by the client. And if that function is very extensive, we'll rely on the customer's specs or create it together with them.



Unceasing development
The Imperial eCommerce platform is updated on a regular basis both in terms of introducing improvements and on a technical basis – you'll never never need to worry about whether your store will cope with the newest technologies.


Adapted to both small stores and large platforms


Together with carefully chosen modules and functions, the system forms a private and friendly to use internet store. Using basic elements or expanding them, together with choosing a few other modules or introducing dedicated solutions, generates a sales platform focused on the community around it.



Integration with other products and modules

If needed, the system enables integration with external products or with any individual modules.



Content management in the store's system - CMS


Easy, intuitive content management. The intuitive management panel enables the edition of any content at any time and without any limits.



The abillity to integrate with invoicing systems


Integrating with invoicing systems provides you with comfortable and complex solutions in the sphere of finance mangement for your company, which minimizes the time spent on invoicing. Our systems have a pleasant structure, which is why it is no problem and all software integrations, even those external, are successful.
An effective look to present your products


Our team works tirelessly so that every detail of your implemented project is perfect - as for the look of your site, we very carefully prepare your graphics spending special attention to esthetics. Just as the entire site is an original composition, so is each of its individual parts.



Adapted for every device
The system was prepared in such a way as to ensure its users can utilize its easy and intuitive interface at any possible screen or mobile device resolution.


Technical support


We ensure tech support at every stage of project implementation. We serve with advice and support from the very beginning of our cooperation.



Reliability


Besides its precise planning and building stage, our system has passed a number of tests and updates. All this to ensure you receive a proven product - one you can use to, without any hesitation, build a reliable, secure and intuitive on-line store on.



Security
Thanks to the utilization of SSL certificates as well as fast and

reliable hosting

, everything works reliably every time.


Multichannel selling
The store's software enables multichannel selling. Thanks to Imperial eCommerce, you can begin selling your products through external sales channels, such as Allegro, Ceneo, etc., while all your orders will appear in your panel in the administration system.



A network of stores
Our Imperial eCommerce system is also a perfect solution in the situation where you want to run multiple on-line stores. The software enables sales management from a single panel for any number of active stores, which aids the creation of a network of related e-stores.
An intuitive and easy to use interface
The system contains an intuitive interface, thanks to which management is simple and pleasant.
We have long-term experience in designing and constructing e-Commerce solutions, we work with our customers during the entire process, starting from the concept through to its design and implementation. You can count on cost-free help and support from our side at any time. Our on-line store design services are above all else the creation of original, custom designs, which complement the professional and intuitive software, maximally easing on-line trade.